A Member Of: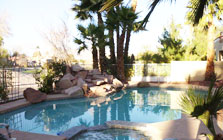 For over 20 years, we have provided Las Vegas, NV residents with premium swimming pool maintenance services. We have committed our time and effort to quality satisfaction for each of our clients. From the moment we speak on the phone to the second we drive away we are here to keep you happy and your pool looking spectacular. Since 1960, we've cleaned, built and serviced pools from California to Nevada and continue to provide our dedicated service to the residents of Las Vegas and Henderson, NV. This has been a family run business for over 50 years and we'll always treat you like you are one of our own.
We are committed to the understanding that our clients look forward to relaxing and enjoying their pools without the unneeded stress and frustration of a grimy or bug filled pool. We will maintain your pool to the upmost standards and you'll have a place to swim that is always crystal clear. We respect your home, pets and property and will always take care of your specific needs. We offer 24 hour emergency support in those desperate of times.
Rain or shine, we show up. We have an experienced staff, fully trained by the owner to make sure your pool looks and feels pristine. We are responsible, reliable and build a relationship with our clients based on trust and honesty. You are not just our customer, you are our friend and we'll look out for your best interest.
In the meantime, feel free to take a look around our site to learn more about what we can offer you. If you have any questions or concerns, please don't hesitate to contact us at any time.